It's 9/11 again. The babies born today in 2001, are legally adults today. Donald Trump has been our president for nearly three years. Three breathless and heartless years. I'm reposting a piece I wrote on the 10th anniversary of 9/11, that was in part about Maria, a blind Colombian candy vendor who worked in my office building. It took me a long time to get to know Maria, and I started to on that day.
This morning I greeted the newer blind candy vendor in the lobby of my building. A man I made sure to introduce myself to when he started.
But I'm feeling scared today that America is not a safe place for Maria, for immigrants, for refugees.
And on 9/11 I would especially like to feel that this was a country that held out its hand and was an enemy of tyrants, of zealots, of oppressive regimes.
There's a long, long road to justice, to freedom, to equity. I'm staying on it and on the right side of history. I pray that in my lifetime I see the world around me move far down that road.
10 YEARS LATER, THE TALK OF THE TOWN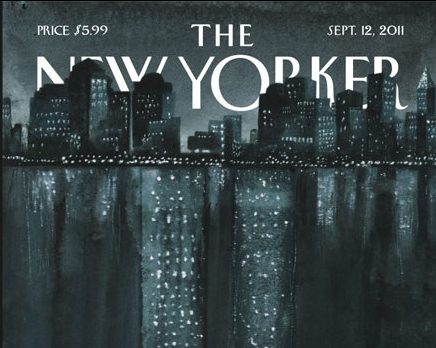 For the tenth anniversary of 9/11 the New Yorker published an extensive The Talk of the Town section with fourteen contributors from David Remnick, the editor, to a diverse set of voices including Ian Frazier, Nick Paumgarten, Lorrie Moore, Jonathon Safran Foer, Zadie Smith, Ian Parker, Elif Batuman and several more- all reflections on 9/11.
Ian Parker's piece was on oral histories taken by Columbia University's Oral History Archive after 9/11. Many archivists went to Union Square to take oral histories in the days after 9/11. They were instructed that in the absence of a randomized system of selecting subjects, they should approach the person they felt least inclined to interview. In subsequent years a theater piece, A City Reimagined" was written and is now being rehearsed in Soho, the text taken directly from these 9/11 oral histories. Parker includes in his Talk of the Town piece three pointed testimonials.
I've mentioned before in this blog that I work at 90 Church Street, a federal office building next door, to the north, of the World Trade Center. The state department I work for moved into 90 Church Street in 2005, when the building was finally repaired from a hole that had let the elements in for four years. Moving our office into 90 Church was a symbol and an act of the state's commitment to help revitalize lower Manhattan. They installed double-paned windows on our floors, because they were aware that the air quality wasn't what it should be, 5 years later. 
Ian Parker describes a Colombian-born blind food vendor who was interviewed after 9/11. Before I see where the vendor worked, I wonder if this is my blind candy vendor. The piece goes on to say that she was indeed a vendor in 90 Church Street and that her oral history describes people running and screaming past her stall in the lobby, no time to close her storeroom, and the dreams she had afterwards of losing her hands.
Mary Marshall Clark, the Director of Columbia's oral history department, contemplates this blind vendor's dream while she listens to the rehearsal of "A City Reimagined." She imagines the vendor is experiencing a re-traumatization of her blindness. Her hands are like her eyes, her dream is like becoming blind again.
This morning, as I entered the lobby of 90 Church Street, and saw the candy vendor in her booth, I remembered the piece I'd read last night. It was quiet and she was alone under the glow of bright lights in her booth. I came over and said good morning. "I think you are written about in this week's New Yorker. Did you know that?" She smiled with a pleasure that seemed a little knowing, but said no, she did not. I said, "There's a piece about people who were interviewed after 9/11 and I think you're part of it."
"Would you read it to me?" she asked. 
It took me a few minutes to find Parker's piece in the magazine still in my bag. While I flipped the pages, she stocked chips and candy. I said, "I think it's you, are you Colombian?" "Yes," she was still smiling. I said several times, "One minute, I'll find it." I appreciated that she didn't care that it was taking me time to find the piece. She wasn't concerned about that. "It doesn't say your name. What is your name?" "Maria" "I'm Rachel," I said , still turning pages. While I located the exact paragraph that mentioned Maria, another woman came to buy something and said, "Hi, Maria," reminding me how other people get friendly so much faster than I do.
When I was ready, I said to Maria, "It's sad." because it all came back to me, what she says about losing her hands, and perhaps she hasn't thought about this since 2001. I began reading. When I got to that part and read her own dream to her, I asked if she remembered that, having that dream, telling them. She shook her head ambiguously. But when I read on, that her hands were her eyes, and losing them was like becoming blind again. Maria said, "Yes, yes! My hands are my eyes."
She thanked me for showing her, by pressing her hands together. I said I'd come back later today with a copy of the article. I'm wondering now, where Maria went after 9/11 when 90 Church Street was struck and damaged and closed for years. And what did she do with her hands until she came back. I'll ask her tomorrow morning.